Frequently Asked Questions
Find the answers to the War and Peace Show's most frequently asked questions
Save yourself time with this brand new section of the site – Check here for answers to your frequently asked questions before contacting us.
We're just 40 miles from central London, with plenty of great transport links. Our address is: The Hop Farm, Maidstone Road, Paddock Wood, Kent, TN12 6PY. (WHEN USING GOOGLE MAPS USE: TN12 6QF)
How to find us by car
You can find us on the A228 near Paddock Wood, Kent with plenty of parking.
Follow the brown tourist signs from junction 4 of the M20 or junction 5 of the M25 onto the A21 South. You will spot our iconic Kentish Oasts as the family park comes in to view.
Please note the Hop Farm and the War and Peace Show isn't responsible for damage or loss to vehicles and their contents that are either parked in the Main Car Park or event fields for events taking place at the Hop Farm.
By Train
If you want to catch the train, our closest station is Paddock Wood. Book a Streamline taxi (see below) to be transported to The Hop Farm from the industrial side of the station or catch the bus which drops off at The Hop Farm.
Travel by train with Southeastern.
You can buy train tickets online or visit www.southeasternrailway.co.uk for more information.
By Taxi
If you live in or around Kent, or arrive at our nearest mainline train station, Paddock Wood, grab a cab from our local taxi firm.
http://www.airport-executive-taxi.co.uk/
By Bus
If you want to catch the bus from Paddock Wood, Tunbridge Wells, Tonbridge or Maidstone, please visit the Arriva buses website for timetables or call on 0871 2002233 for times and details.
Car parking is available free of charge at the War and Peace Show. Disabled parking is also available – just show your blue badge.
The War and Peace Show offers on-site camping to enjoy the full War and Peace Show experience. You can book that here >
If camping or caravanning isn't you, there are hotels and B&B's located nearby. Just search for hotels or B&B's in or near Paddock Wood online.
Yes, there are accessible facilities i.e. toilets and main routes around the site.
However, due to reasons out of our control, not all areas of the show are wheelchair accessible, this is mainly down to the event being based outdoors on grass fields subject to the British weather. We have made all efforts within reason to enable accessibility to all visitors including those in wheelchairs or with limited mobility.
There are food courts located in the Trade Stalls, next to the Victory Marquee, inside the Victory Marquee, at the Spitfire Marquee and at the entrance to the Living History field. These food courts offer a wide range of foods including food for specialised diets, allergies and vegan/vegetarian items.
No. The War and Peace Show is based outdoors therefore there will be no WiFi. If you require an internet connection, we recommend using a mobile phone's cellular connection or purchasing a dongle from a mobile provider.
Didn't find the answer to your question?
If you've read through our frequently asked questions and haven't found the answer you're looking for, please contact us and we will do our best to help!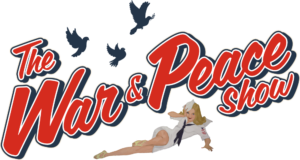 *Details subject to change